Welcome to the Year 1 page for the class of 2021-2022
Class teacher - Mrs Heyes
Teaching Assistant - Mrs Brookes (Monday and Tuesday)
Teaching Assistant - Miss Haseldin (Wednesday, Thursday and Friday)
Important information
Reading -

Please return reading books every Monday so they can be changed. Please hear your child read every night and sign and comment in your child's reading diary.

Spellings -

Spelling will be given out every Friday and they are based on the phonemes being taught during Phonics lessons. The red spelling homework folder is to be retuned the following Thursday. Your child will then have a spelling test on Thursday.

Homework -

We encourage children to go onto Spelling Frame and Numbots each week to build up their English and Maths skills.

PE -

Our class PE day is Wednesday.
Spring Term 2 - Week 1
World Book Day 2022
Happy World Book Day from Year 1
Check out the main World Book Day Page here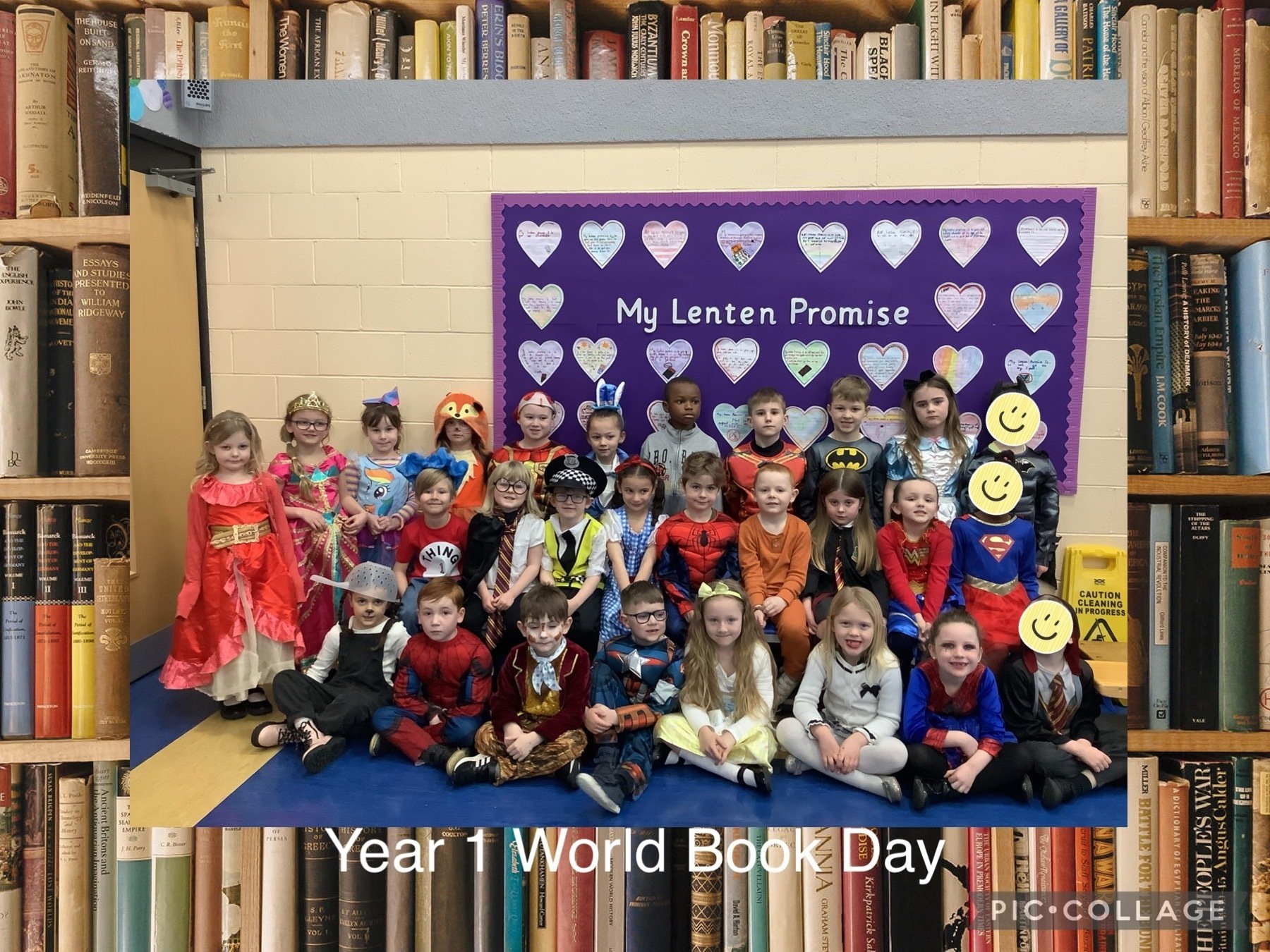 Spring Term 2 - Week 1
We have been very busy in Year 1 this week. On Tuesday we enjoyed the first lovely Spring day and went outside for our Science lessons. We observed the different types of plants found around the school. We discussed the different parts of a plant and a tree.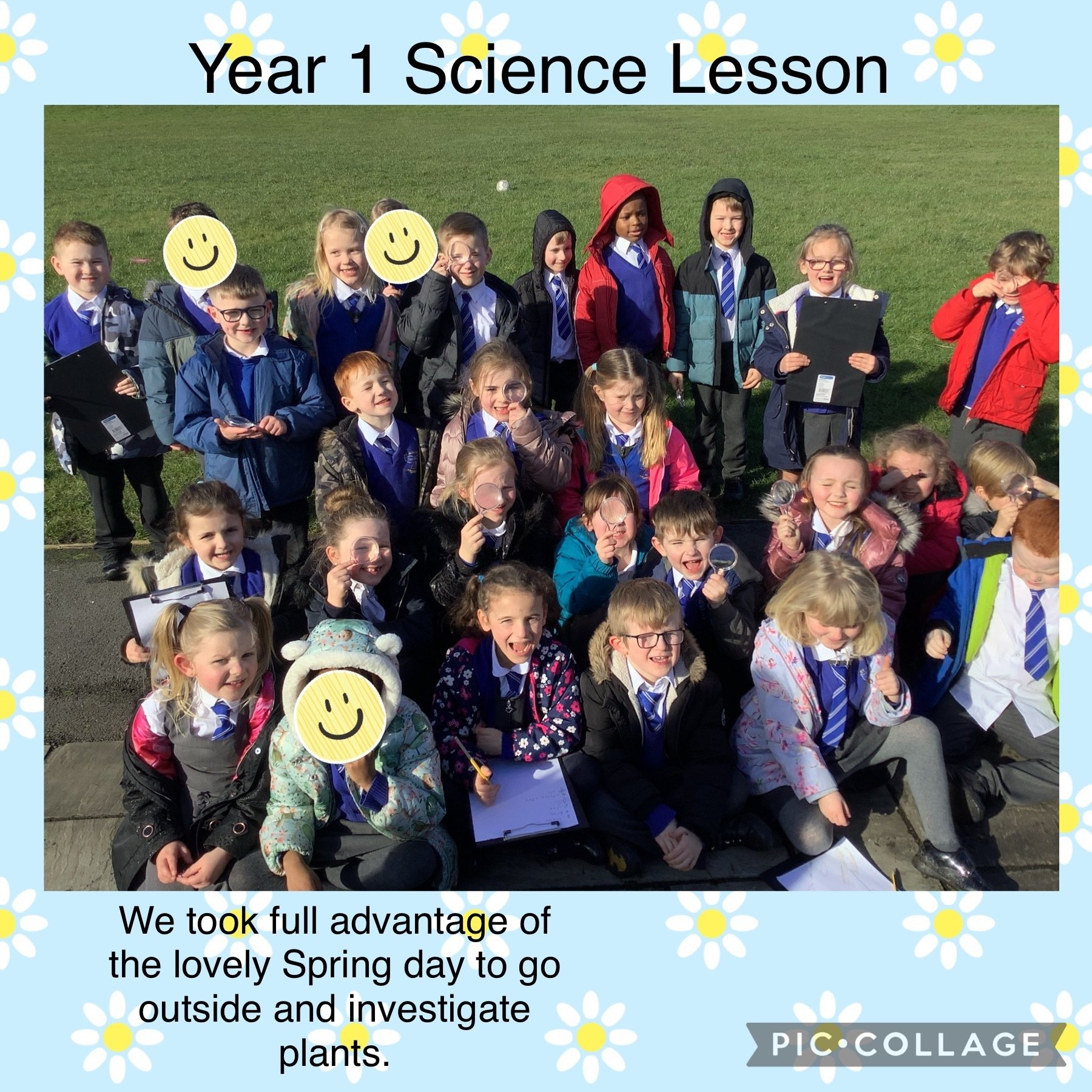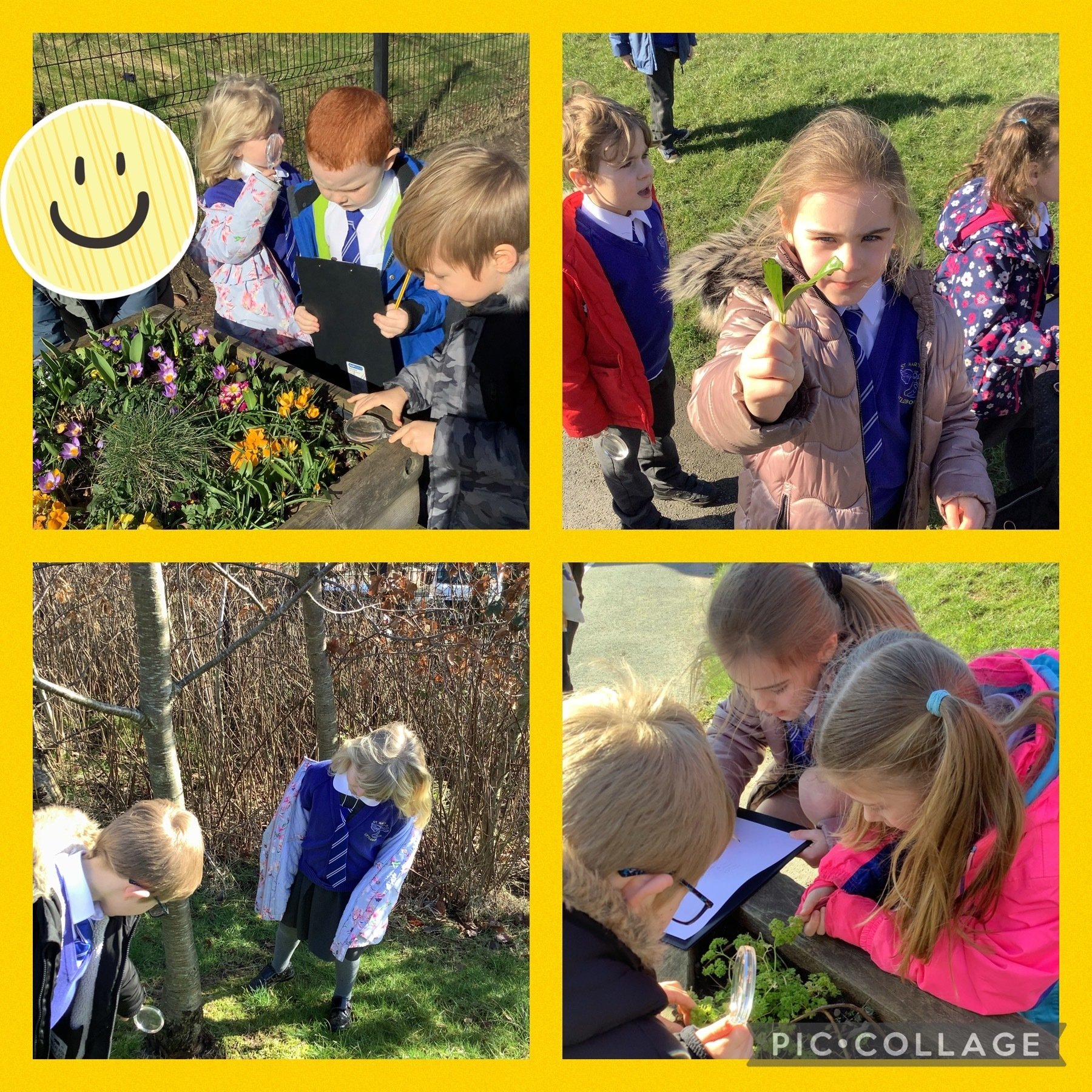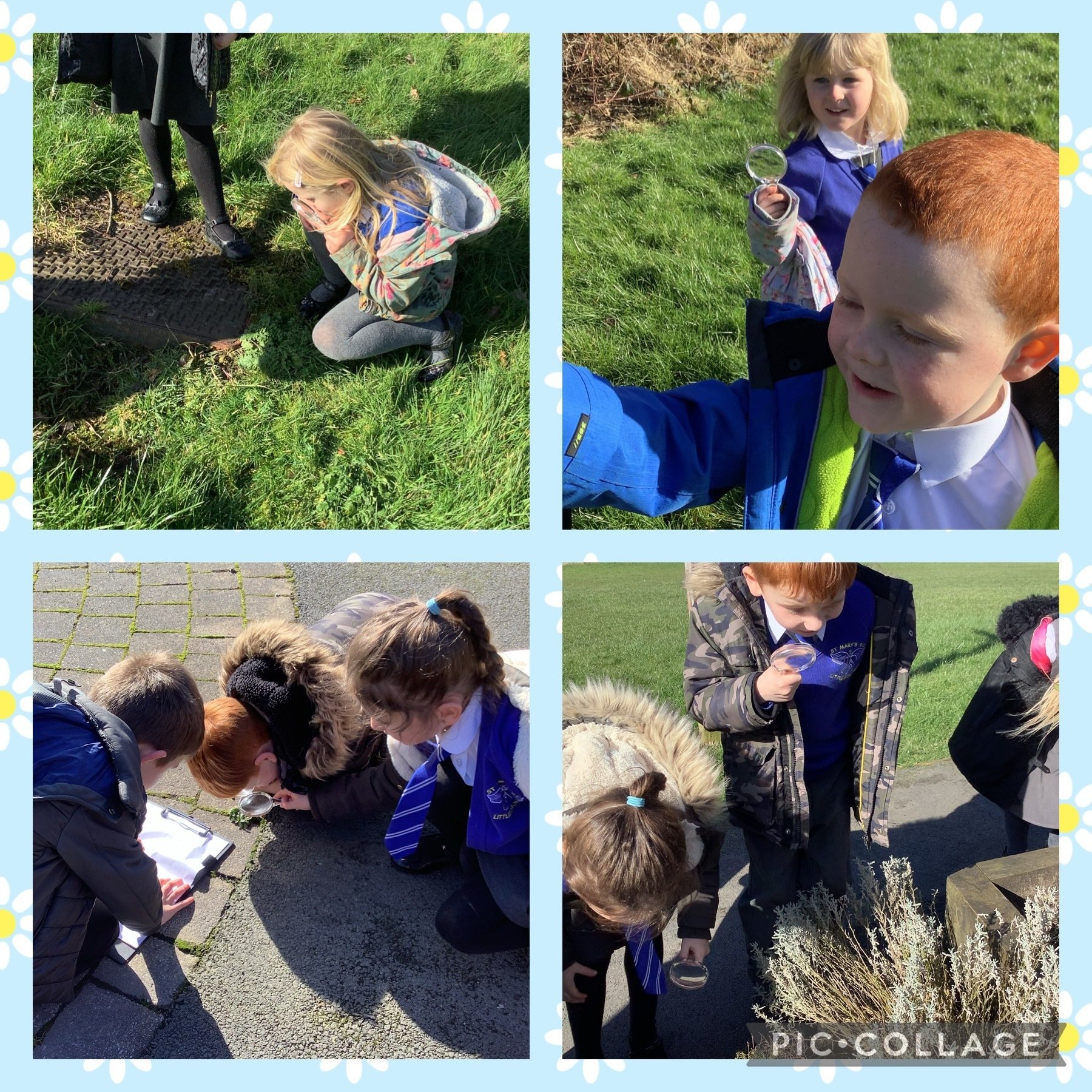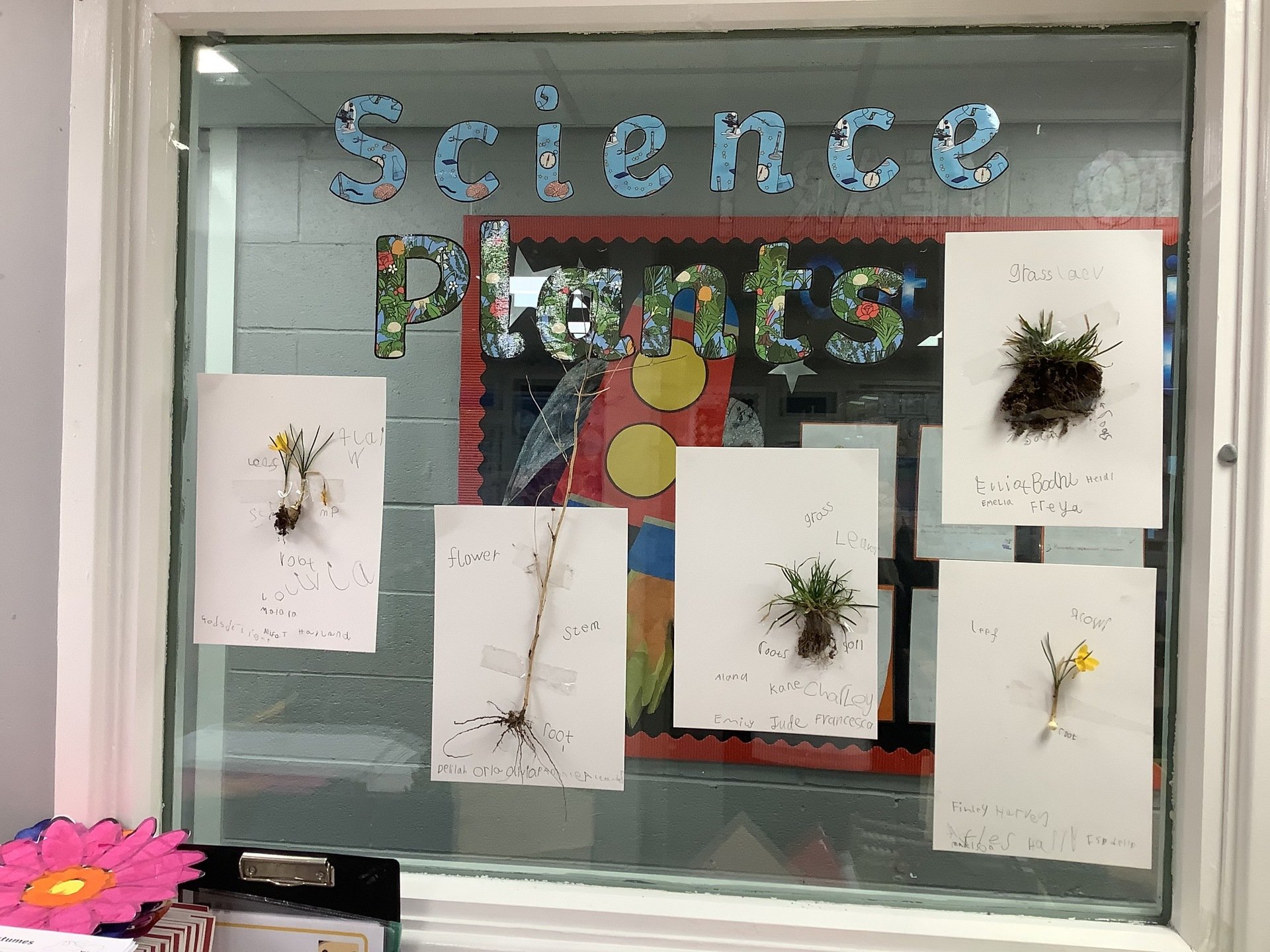 Then on Thursday we went over to Church, with Year 2, for a visit and to have a look around. We asked Father Robert lots of questions about the Church and the features of a Church. Before we left we said a special prayer to Mary, Our Mother.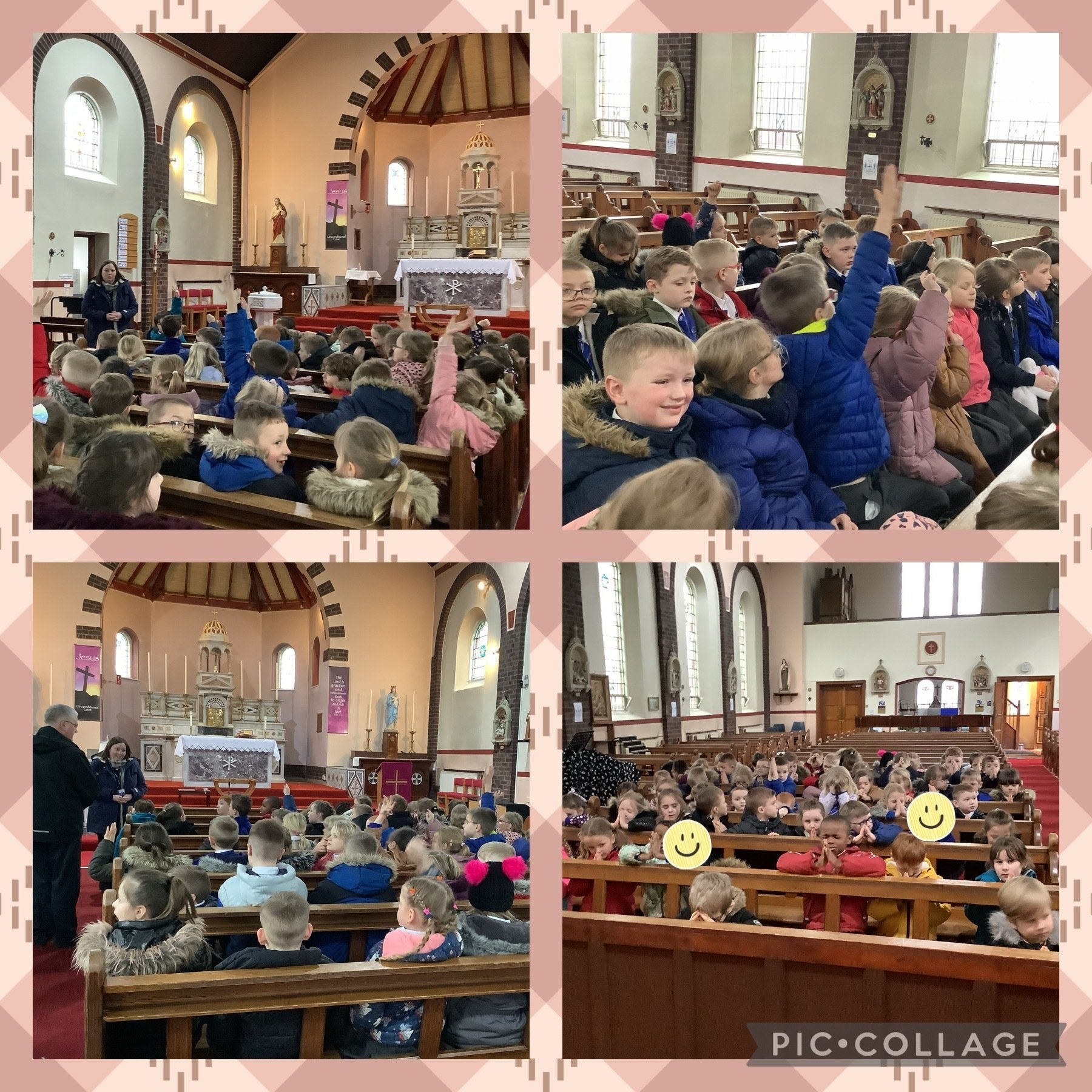 Welcome
A very warm welcome back into Year 1! I hope you and your child had a lovely half-term break! Along with myself, Mrs Brookes, Miss Haseldin, Mrs Howard-Cofield and Mr Wombwell will support the children, by way of small group and in-class support, as well as specific interventions where needed. Mrs Brookes will cover Year 1 every Monday afternoon, while I will be on my PPA.
Our third topic of the year will be "Space". During this topic, we will be looking at a variety of texts all about the wonders of space. Within our English work, we will be asking our own questions about space while learning to punctuate our sentences using full stops, question marks and exclamation marks. We will also be exploring a variety of new sentence starters and adjectives to make our space work more interesting.
Our mornings will be very busy with Phonics, English, Maths and Guided Reading. We will also continue to input continuous provision; to help the children with their transition from The Early Years Foundation Stage to Key Stage 1. There is a lot more work to cover in the Year 1 curriculum so I will be sending things home for you to help and support your child's learning.
Espresso Login
Login: student 18703
Password: stmarys
Our Year 1 Journey Begins
Important Information
Staff
Class Teacher - Mr L Jenkins
Teaching Assistant (Monday - Tuesday) - Mrs S Brookes
Teaching Assistant (Wednesday - Friday) - Miss S Haseldin
Teaching Assistant - Mrs J Howard-Cofield
Teaching Assistant - Mr H Wombwell
and finally our class mascot, Buster Bear!
Phonics Screening Check
This year your child will complete their Phonics Screening check in June. The children are expected to read 40 real and nonsense words using their phonological knowledge and understanding. As we progress through the year I will send more information and materials for your child to practise at home. As the Year goes on we update with more information and resources will be sent for you to help your child at home. More information can be found here.
Facebook
Please like our Facebook page if you haven't already, as I will post regular updates and pictures of what we have been doing in class.
Reading Books and Spellings
Please listen to your child read at home every night, even if it is just for 10 minutes before bed. We encourage you to practise your child's spellings with them as much as possible. Please find below the dates regarding Reading Books and Spelling Packs.
Reading Books - Returned to school on Monday. Sent home on Wednesday.
Spellings - Spelling practise sheets will be sent home on a Friday and need to be returned to school on the following Thursday, ready for the spelling test the next day.
If you have any questions and issues regarding reading books or spellings, please speak to a member of the Year 1 staff. Please encourage your child to read for pleasure at home as it will have a positive impact not only on their reading and comprehension skills but also on their writing.
Homework
As you are aware we no longer send written homework but children continue to have homework in the form of the basic skills, of reading, learning spellings and practising Maths facts. Children practise these skills on Spelling Frame and Numbots. Logins for these platforms can be found at the back of your child's reading record.
PE Kits
Our PE focus this half term will be Dance. The children will have PE on a Wednesday morning this half term. Please can you ensure that children have their full PE kit in school for their PE sessions. If your child wears earrings they will need to ensure that earrings are removed or covered please.
Water Bottles
It is important that children stay hydrated throughout the school day to help aid concentration. Please could you ensure that your child's water bottle has a sports cap and has their name clearly labelled.
And finally…
I am so excited to be teaching Year 1 again this year! Year 1 is a very exciting year and I have many fun activities planned. I am also very excited to have some returning faces coming to Year 1, having taught some of your children in Nursery three years ago. I am also looking forward to meeting some brand new faces!
If there are any problems or queries, please do not hesitate to come and see me or one of the team. You can arrange an appointment by emailing me on year1@smrc-lit.co.uk or by contacting the school office. Here at St Mary's we believe that communication between home and school is an essential factor for a wonderful learning experience.
We hope that you have fun listening to the children telling you all about the fun we have in Year 1!
Many Thanks
Mr Jenkins and Team